Froim Spektor, Habet mischamajim ureh (Look upon us from Heaven)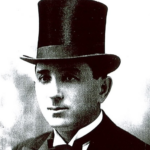 Froim Spektor (1888–1948) was appointed 'Oberkantor' of the grand Choral Synagogue in Rostov-on Don, Southern Russia, in 1915. In 1928, he travelled to South Africa to take up the post of Cantor at the New Hebrew Congregation in Roeland Street, Cape Town, a post he held until 1934. Now in the possession of his granddaughter in Cape Town, Spektor's red manuscript folder contains a treasure trove of his own compositions and previously unknown works (or works considered lost) by other significant Jewish composers.
However, the autograph manuscript score for Habet mischamajim ureh appears in one of the music notebooks that ultimately ended up among the papers of Cantor Morris Katzin (1902–74), in the private collection of Katzin's daughter Shirley Greek in Cape Town. Whether Katzin inherited these notebooks from Spektor or transported them to South Africa himself in 1934 is uncertain. However, the two were close friends during their Cape Town years, and it seems likely that they regularly exchange musical materials between them.
The piece is scored for solo Cantor with violin, 'cello and organ accompaniment. Spektor composed several other pieces with string accompaniment, reflecting the relatively liberal community within which he found himself in Rostov-on-Don. Finely crafted, with some achingly beautiful passages, the setting is a masterful reflection of the sombre, pleading nature of the text.
Spektor, Habet mischamajim ureh JAN 2020

Discussion disabled.